Where Creativity Blends…
With My Life-long Passion!

Hi, I'm Rosemary Augustine, an artist, author and a career coach for 20+ years.  The more I immerse myself in creativity, the more creative I become.  I use creativity in my coaching practice, and I inspire creativity with everyone I meet.  
Over the last 15 years, I have developed my artistic skills using acrylics, watercolors and mixed media. I maintain a daily journaling practice as well as writing books with journal prompts for every day use.  My approach to life is focused on a positive outlook, conscious thought and spiritual grounding.      
Many people call me a Journal Aficionado.  Ha!  Even my license plate says Journal. My thought behind having personalized license plates was to remind myself to journal every day and to inspire others to do the same.  As a result of my journaling practice, I have written and published many books.  My most popular ones include 365 Days of Creative Writing 

and

 Secrets I Learned From Ordinary House Cats. 
Because I write so many journal prompts, I also hand-craft journals.  And… because of my love for cats, I write about them as well as paint and photograph them.  My kitty Ziggy, who was with me for 11 years,  continued to be popular on Facebook, Twitter and Instagram where I continue to post cat pictures and videos with the new representatives – Oscar and Buttercup … Visit: Ziggy on Facebook  with over 2,000 followers and Ziggy's Secrets at Twitter and Instagram.  The fame never went to his head, though I often got a few good laughs on our posts.  Ziggy also has a password book called Ziggy's Secrets, which is an internet password log book to hold all your secret data.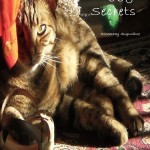 Ziggy's Secrets – Password Book – Video
I am active on Social Media, see the links at the top of the page to go to my sites and follow me.  If you would like to receive my blog posts and other email announcements, please use the "Join My Email List" button above. If you subscribe you can unsubscribe at any time.  Check out my Books Page to see all the books I've written and published… you may find something for yourself or as a gift.
If you are seeking purpose to your work and more creativity in your life, welcome my friend. May my pages help you find what you are looking for along your path.

. . .
Rosemary Augustine
Melbourne, Florida – USA