Hand-crafted Journals and More…
Journaling is very close to my heart. I've been keeping journals as far back as age 19.   It's something I work at doing on a regular basis – though, at times even daily can be a stretch.  However, I've learned if I don't journal, I miss out on an important stream of consciousness, often feeling scattered, unfocused and just plain out of sorts when I don't use my journal.  Journaling centers me – grounding me in a spiritual practice.  Journaling is often referred to as a spiritual process by many well known spiritual leaders and new thought followers.
I have license plates that say "Journal" which when I first moved to Pennsylvania, my idea of the personalize license plate was to remind me to journal everyday, and to inspire others to do the same. 
Sometime in 2007 (or there abouts), I learned how to make hand-crafted journals.  My first few were rough … really rough… but I prevailed and as an artist, continued to hone the craft.  I attended a few classes on different types of book binding and use one particular book that gets me through the stitching process.  I truly get lost when creating these journals and mostly give them as gifts, sell at craft shows or sell online at my Etsy shop.

This particular black leather journal was crafted for my brother, Chris.  On the spine is a buffalo nickel button.  Southwestern beads adorn the leather strips use as tie closure.

This journal was crafted for my friend Anita Larson.
Small enough to fit into a purse, with 100 pages for  
writing thoughts and ideas on the fly.

And this was a commissioned journal for someone special with purple as the primary color throughout.
Many of my journals include beads and buttons, as well as waxed linen thread for stitching the pages and various ribbons for tie closures.  Cotton cloth is used for the cover and usually for the inside cover too.  If leather is used, then I keep the natural look of the leather both inside and out.   Sometimes I'll use a faux leather and glue a special paper on the inside of the cover to add to the beauty as well as the durability of the cover material. Often the journal pages are plain white or buff colored with straight cut or hand torn edges.  Each journal includes three, five or seven signatures with five to eight pages per signature.  End leafs are often something unique to the color and overall design.  Some fun journals have included recycled paper bags for the pages. 
 
So there are all kinds of journals… some big, some small.  Composition notebooks, sketch books, plain paper, lined paper, colored paper, and more. 
What do you write in your journal?  Well, that depends on what you are using it for.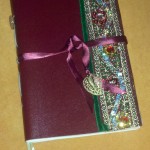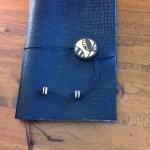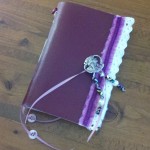 Then there are the fun journals made with my new Cinch Binding Machine… using the spiral rings. Some have paperbag pages – like the "shopping list" journal as shown below and others have plain pages.
       
101 Kinds  of  Journaling
By Rosemary Augustine © 2011-12
accessories; accomplishments; advertisements;
 affirmations; angels; anger; art ideas; art journal;
art materials; articles; baby; balance; bead;
bird; birthdays; book titles; bucket list;
car; career ideas; childhood stories; chocolate;
clothing; colors; cookie; coupon; craft; creativity;
daily; dating; dog; dream; dreams;
education; exercise; experience; expressions;
family; fears; feelings; financial; food; garden;
gift; goals; gratitude; happy; healing; health; heart;
hobbies; hurts; ideas; inspiration; intuitive;  job search;
jokes; joy; keepers; keepsakes; kitty; lazy days;
lemonade; love; medical; memories; mind mapping;
money; mood; morning pages; my journey;
numbers; nutrition; oasis; opportunities;
passion; patterns; photo; planting; poems;
prayer; questions; quiet; quotes; reading;
recipes; relationships; relocation; seasons;
secrets; sex; shoes; sketch; songs; spiritual;
sports; sugar; supplies; thoughts; to do's;
topics; travel; unusual; victories; vitamins;
weather; wishes; work; writing topics;
xanadu; yearnings; yoga;
zen… and more!
My absolute favorite journal is my Joy Journal. 
 A small, spiral bound journal with plain, lined paper and a beautiful pink rose on the cover.  On the inside cover I wrote – in 2006: 
"Joy, a will of my soul and an act of my heart."
May you find peace, love, joy and harmony in your life as you make journaling a regular part of your life.
Warmest Journaling Regards,
Rosemary Augustine