Creative Courses and Workshops
 by Rosemary Augustine
Join My Mailing List to receive information on classes in your area
and other creative opportunities.  
Other Classes not listed include: Creative Writing Series, Travel Journals and Dining Room Table Arts.  If you want a custom program, please contact Rosemary Augustine directly at 610.647.8863 for more information.  Or email using the email address in the website footer.
~ ~ ~
 

Art Journaling Magic
using Collage and Mixed Media

Please join us for a three hour class on art journaling magic using collage and mixed media techniques as you create one or several pages combining paint, writing and collage techniques. Delight your senses as you learn how to layer and achieve a finished work of art with the materials provided. Watch your art journal technique come alive with layers of color and other elements using special techniques in the process.  
Please Join My Mailing List to Learn More
~ ~ ~
Stitch or Cinch: Journal Binding and Finishing
Create a faux leather journal learning a simple yet eye catching binding stitch resulting in a 100 page journal.  You go home with a finished  journal holding 100 pages that opens flat for writing, and is hand stitched and embellished by you. You will also complete a spiral bound journal (shopping list style or index card size) using recycled materials.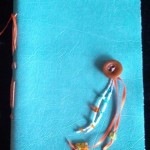 ~~~
Creating a Vision Journal

What areas are in balance, need adjusting, improving or need to change… The first class identifies areas for the vision through writing and the second night begins the visual process.  This is a multi evening class – please advise the evenings your group would like to do this.
~ ~ ~
Writing a book? … or want to?  Join this group each month for writing tips, current publishing venues, formats and information, as well as competitive marketing ideas in our electronic world… You can have your book ready for release sooner than you think.
Please Join My Mailing List to Participate
 ~ ~ ~
Art in the Garden
We spend the day at a local public garden in either Florida, New Jersey, or Pennsylvania (including Chanticleer Gardens and Jenkins Arboretum in the Philadelphia suburbs). This allows you to Sketch… Paint… Write… and receive individual feedback and support on various techniques. This is a small group  and NOT a structured class.  You choose the medium and subjects with support throughout the day.  Often held in February, May and/or October.  Join our mailing list so you can learn  more when dates are scheduled.
~~~