Journaling Circles
Spark Your Creativity!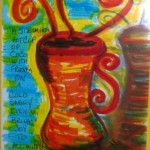 What is Journaling Circles?
Journaling Circles is a group of people (the circle) who like to journal, write, play and be creative. Some will sketch others will use paints, markers and maybe even glitter. Some come to the group and have no creativity whatsoever and leave inspired, uplifted and a new found feeling of creativity. Beginning April 2015, we now come together online to explore our personal creativity. We play and free write from prompts. We create shapes, designs and embellish our "works of art" with colored pens, pencils, watercolors, acrylic paints, glitter, stamps, stickers or whatever else you feel inspired to add and enhance your "art journal page."
How Did Journaling Circles Start?
An inspired creation of Artist and Author

Rosemary

Augustine, Journaling Circles first began in Denver Colorado in 2001 and later moved to MeetUp.com September 2011 meeting in King of Prussia, PA and later finding a home at Panera Bread in Gateway Shopping Center, Wayne, PA. As the founder and facilitator of Journaling Circles, rather than disband the group when she relocated out of state to Florida in 2015, she took the group online with monthly email prompts, and a private Facebook page to share the group's completed "works of art."
What We Do Today
We write, we draw and we color.  Spark your creativity by joining us each month for Journaling Circles – Online.  You don't have to be a writer or even have a daily journaling practice to participate.   Nor do you have to be creative – but you will once you participate.  Each month is filled with creative exercises to spark your inner spirit and help with your art journaling practice, inspiring change, personal growth or improve areas in your life.   
To participate in Journaling Circles – register by signing up for the email list and select Journaling Circles on the list.  
Once you join the mailing list, you will be notified each month with monthly prompts and creative exercises and will receive info to participate in our private Facebook group where you can post your finished "works of art" and converse with others in the group.  You will be invited into the private FB group once you register and pay.  There is a $5/month fee to receive the monthly prompts or pay by the quarter (beginning of each quarter – January, April, July, or October) or pay annually and receive each month automatically.  
Pay using PayPal:
 or if you prefer to send a check: please mail your check (include your email address as well) to:  
Rosemary Augustine, 2175 Golf Isle Dr. #1024, Melbourne, FL 32935
Checks drawn on US Banks only
Sign up for Journaling Circles today.  You can start anytime and work at your leisure. By purchasing one or several months of Journaling Circles, you are automatically placed on the email list.  Please know that you can opt out of the emails anytime by "unsubscribing" at the bottom of each email.  Looking forward to you participating in this creative exercise.
Tools Needed to Participate

 
A journal (preferably one with blank pages),
pens – any color gel or ink pens,
colored pencils or markers – watercolor pencils are acceptable
your option to use watercolor or acrylic paints, glue, glitter and plenty of imagination.  
We get started the beginning of each month with the monthly prompt being distributed the first Monday of each month.  Look forward to your creative spirit joining us!
Consider hosting a Journaling Circles 
at your Home or Office. 
Contact Rosemary for Details.