As we come to an end of 2016, it's been a great year.  Lots accomplished.  January kicked off with the start of The Self Publishing Group – a monthly teleconference helping Indie authors navigate the business of book publishing.  This is an extension of the Meet-Up group I ran for three plus years in the Philadelphia suburbs.  If you know someone who wants to participate, please let them know of the link:  www.bluesprucepublishing.com/group.
In the spring, an eclectic store named Every Nook and Cranny in Mt. Dora, Florida accepted my art work and books to sell to customers. I'm excited, since I am selling my art – mixed media and collage items along with my cat books.  Here are a few samples.
I also spent most of the 1st six months revamping my book Secrets I Learned From Ordinary House Cats – adding additional text / pages, photos/graphics and a new cover. 
My goal was to take it to a hard cover, but the only print on demand company (Ingram Spark) that offers hard back covers did not meet my standards for satisfaction.  I will be adjusting the size of the softcover book that is available on Amazon.  Long story but you can read all about my dealings with Ingram Spark at:  www.bluesprucepublishing.com/category/blog.
The summer months were glorious here in Florida with long hot sunny days that yielded much use of the fantastic swimming pool at my condo.  It was a chance to visit with neighbors and get some exercise.  The summer also brought the sudden death of my beloved feline, Ziggy.  Totally unexpected, yet it threw me into a 4 hour block of amnesia.  I have no recollection from the moment I found him until I returned from the ER with my neighbor.  It took a toll on my health with heart and digestive issues for several months.  His ashes rest with my other felines on a special shelf in my home.
By the end of October, however, I adopted two new kitties – Oscar (an orange tabby) and Zora a calico, that are six years old and litter mates – a brother and sister.  They are curious, full of mischief and just a couple of little loves.  Surprisingly, they adapted to my home very quickly, considering they've been passed around a lot in the last couple of years (original owner died and in/out of foster homes that didn't pan out to be permanent).  They love the screened patio that overlooks lots of wildlife.  They are very spoiled.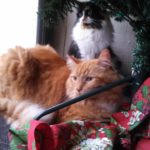 If you are on Facebook, and are already one of the 2000+ followers on Ziggy's page, thank you! Check out Oscar and Zora at Ziggy's Secrets on Facebook.
As the fall approached, I did a little traveling to favorite spots including a short trip to Denver.  Frustrated by the election, I pulled way back on my personal Facebook page.  However, I would spend time sifting through cat videos and photos for Ziggy's Secrets or add pictures to my boards on Pinterest – find me on Pinterest at Journal Queen. There were weeks that I would only post on Pinterest and Ziggy's page.  These two sites Pinterest and (Ziggy's Secrets) brings me much pleasure.  It's my way of dealing with the election, various world events, and all the daily craziness of life.
As we move into 2017, let's enjoy it to its fullest, since we don't know what will happen.  After losing Ziggy so suddenly, it makes me realize we can be gone in a flash. Live in the moment, be grateful for the day and enjoy the holidays.
Wishing you all the best for 2017.  Merry Christmas, Happy Hanukkah and a Very Happy, Healthy and Prosperous New Year to you and yours.
Warmest Holiday Regards,
Rosemary Augustine
~ ~ ~
Well, it's the last day of June!  End of the 2nd quarter and half of the year has gone by so far.  In six months, tomorrow will be New Year's Eve.  It's just another sunny day here in Melbourne, FL.  So far enjoying my new home, my new city and all that it has to offer.  But I'll give you a good laugh for a Tuesday… The name of my Condo Complex is Fairways Four Condominiums and we are situated on Mallard Landing Golf Course in Melbourne. I've been wondering what hole I'm on as I see golfers out my window on the other side of the pond.  I often hear them yell after hitting the trees or hear them curse because they made a bad shot.  So one evening after dinner I took a walk toward the entrance and where the golfers cross to continue to play in front of my building.  I had a really good laugh when I saw that the hole is "Four" … you'd think it would have registered for me with the name Fairways Four.  Oh Well… I laughed for days on that one.
Meanwhile, Ziggy is having a ball.  He acts like we never moved and just loves the patio and all the critters that taunt him, including birds, squirrels, frogs, ducks, egrets, salamanders and only God knows what else.  Hopefully you have visited him on Facebook: www.facebook.com/MyCoolCatZiggy.  We are currently in a month-long ad campaign on Facebook and so far he has 217 "Likes" as of this writing. He has surpassed my author page by over 100 "Likes" … so I guess that means he's more popular than me on Facebook!  He posts things like: "TGIF – Thank God I'm a Feline" and "No, I'm not pole dancing, I'm resting against the patio table leg."  He loves the warm afternoons and muggy evenings and comes in to get cool when it's time for bed.
Talking about Facebook, if you follow me at all I want to clarify my different pages.  My personal page you'll have to send a "Friend Request"; my author page and Ziggy's page you just need to "Like" to follow either of us:
Personal Page: www.facebook.com/Rosemary.Augustine
Author Page: www.facebook.com/AuthorRosemaryAugustine
Ziggy's Page: www.facebook.com/MyCoolCatZiggy
As for me, I started an acrylic painting class and of course I'm attempting to paint a picture of Ziggy next to a  pineapple.  I've been making a few crafts and most importantly, I've been writing, working on finishing my new cat book titled, Adventures with Byron.  There is an excerpt for you to read at my website: www.RosemaryAugustine.com/books/Byron.  I hope to get a copy to my editor before she goes into vacation mode with family at the Jersey Shore in August.  Katherine if you're reading this… you know I'll work with your schedule.
Thinking of all the projects you want to finish this summer? Have you put together a list of things you want to accomplish before September?  I have and when the list gets too long, I just pick 3 things and it makes life easier and the accomplishing more doable.
Some of you searching for a creative spark may want to join my Journaling Circles.  I provide a prompt every 1st Monday of the month and you work at your own pace and then upload it and interact with others on our private Facebook page: www.facebook.com/groups/Journaling-Circles.  We're a small group but we're consistent, and steadily growing.
Wishing you warm sunny days and cool nights over the next few months, as we're heading into our hot days and warm nights here in Florida.  The AC is on 24/7 and has been serviced for the upcoming hot summer months.  Here's wishing you a great 4th of July weekend with lots of apple pie and lemonade.
Warmest Regards,
Rosemary Augustine, Artist and Author
 . . .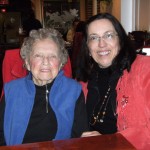 Many of you remember milestones, special events and tragedies in your life, such as your 5th, 16th or 21st birthdays, the birth of your 1st child, buying your 1st home, your 1st car, or your farewell parties.  Many of you know where you were when Kennedy was shot, or that the day of 9/11 is etched so deeply into your memory.
Today marks the 1st anniversary of my  mother's death.  The milestone we are told "things get better, the grief gets lighter – after you pass the one year mark."  We'll see.  May is particularly hard because the world celebrates Mother's Day this month as well.  And Mother's Day was 2 weeks prior to her death last year.
So on this glorious day in May, springtime in bloom, I give thanks to the woman who bore me, trained me, reprimanded me and loved me in her own way.  She lived to 100+ years (100 years, 3 months and 8 days), and she would tell you so regardless if you asked.  May 28th will always be a day of remembrance, along with my birthday, holidays, and 9/11.  A day to give thanks for all this woman gave me and all she represented.
Rest in Peace Mom!
…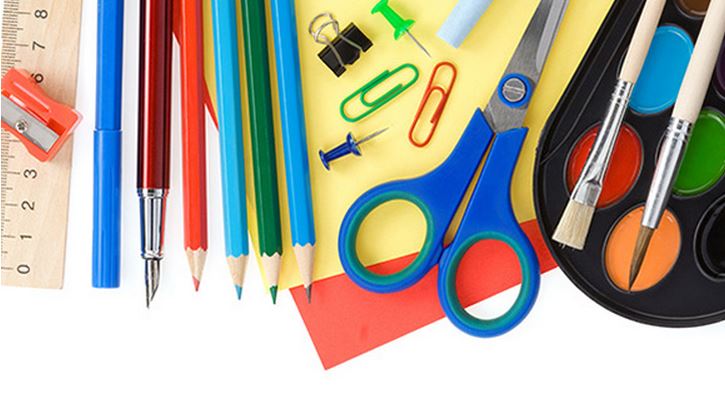 Hello My Creative Ones…
I want to update you with some creative happenings I'm offering to my readers. I am a firm believer of creativity and how productive it makes us in life.  If you feel you don't have creative bone in your body, then these courses are designed for you.  Hopefully by choosing one or several, you will spark your muse and take your creativity to new heights.  Here's what's being offered:
Intuitive Writing Course
This course is designed to collectively build on each sensory organ and ultimately increase your intuitive side. You will find the course is filled with writing prompts and creative ideas to maximize your creative process.  As we work through each week in a particular order, you are inspiring your creative muse, enhancing your intuitive side, all the while sitting in a comfortable chair of your choice.   Travel on this exciting journey to develop your intuitive self and write your way to being a more creative individual.  Although this course is designed for the writing side of journaling, sketching, drawing and/or creating art journal pages is always welcomed as part of the completed exercises.
With this course, you will receive weekly email assignments each Monday for 6 weeks.  If participating in the weekly group calls, you are welcome to email a brief summary of your experience at the end of each week as well as any questions or comments around the topic that you may want to discuss on the group call.  Group calls are usually scheduled for Thursday or Friday of each week.  Course starts Monday, May 25th.  For more information on this course, to register and pay, visit:
Journaling Circles
We write, we draw and we color.  Spark your creativity by joining us each month for Journaling Circles – Online.  You don't have to be a writer or even have a daily journaling practice to participate.   Nor do you have to be creative – but you will once you participate.  Each month is filled with creative exercises to spark your inner spirit and help with your art journaling practice, inspiring change, personal growth or improve areas in your life.
The group also has a private Facebook page to share the group's completed "works of art."  Once you sign up for Journaling Circles you can join the private FB group.   A nominal monthly fee to participate, our group welcomes any level of creativity.  Journaling Circles starts the 1st Monday of each month, but you can join anytime, pay the nominal fee and get the current month's prompts.  Then join us online at our private Facebook page.
Visit , register and pay at:
Ziggy on Facebook…
Ziggy now has his own Facebook page.  Like and follow Ziggy at:  My Cool Cat Ziggy.  With each post he gives secrets to his adventurous life on the 2nd floor.  Of course, he is the featured feline in Secrets I Learned From Ordinary House Cats which can be found on Amazon (both in print and ebook version), Barnes and Noble Nook or ask in your local bookstore.  We continue to advertise in Catster Magazine – which is formerly Cat Fancy Magazine.  Ziggy loves posting comments on Facebook and his sense of humor sometimes has you wondering.
Remember to Like and Follow Ziggy on Facebook at My Cool Cat Ziggy.
Cats on Pinterest …
If you are active on Pinterest, check me out at Journal Queen.  I have a great Board on Cat photos, not to mention fabulous photos on great places to sit and journal (Journal Spaces).  I add pictures frequently and if you see something you like, pin it to your board.
In Closing … 
Life is moving along quite nicely in Melbourne.  For anyone who doubted my move to Florida, you can put your doubts to rest.  I'm very comfortable here and I'm enjoying each day to it's fullest.  Ziggy is settling into the new digs as well. He is enjoying the screened patio overlooking a pond filled with wild ducks and birds… not to mention some other critters.  Every day is sunshine and blue sky.  And when I walk in the evening and take a look at the golf course that my building sits on, I thank God for the opportunity to be here.  Early morning walks on the beach and early evening walks by the golf course – I must have done something right to manifest such a wonderful lifestyle.  Here's wishing you a creative life as well.
Creatively yours in love and light,
Rosemary Augustine, Artist, Author and Creative Facilitator
~ ~ ~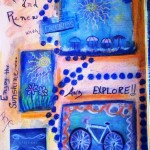 Ten days ago, I moved from Berwyn, PA to Melbourne, FL. A move I've thought about for many years. I've visited Melbourne for the last 10 years and know several people here in the area. It seems the more people I told I was moving to Florida, the more people told me they were doing the same.
Moving is emotional, there is no way around it. Emotional for both me and my cat Ziggy. I was able to process the emotions of grief, loss, change, fear and uncertainty just to name a few. But Ziggy, well, he had a little harder time processing all those changes we've been through in the last year including death of my mom and his little brother Zack.
In February, I hired a Cat Whisperer (or Cat Behaviorist depending on my thoughts around the situation). She was awesome. She recommended several things to do for Ziggy and compared to our move down the hall in 2013, he was much more adjusted through all this change moving to Florida with her suggestions – Special food (that was medicated) along with plug ins and collars. And, yes, toys, playtime and lots of conversation with him about what we were doing. He's one smart kitty. So smart that the morning of our departure (after the movers left the apartment empty for both of us to see), he surprised me by getting into his carrier (for the 1,000 mile ride) all by himself. I worried about his resistance, but there was none. Just a whimper every so often to make sure I was still in the car with him. And of course, once we arrived at our new home, he couldn't resist the screened patio for his daily enjoyment. For an animal that can't process emotions like us humans, he adjusted pretty darn good, after his severe separation anxiety episode he suffered months prior.
As for me? Well, the story continues. As I began unpacking boxes and setting up my office, I came across some books. Oh, so many books, where was I going to put all of them. I separated out the books on book publishing so I could refer to them frequently. But the books that most caught my eye were the 3 books by Julia Cameron – The Artist's Way, Vein of Gold and Walking in this World. The Artist's Way I had done so many times – both on my own and facilitating it numerous times in 5 separate groups over the past few years. The book Walking in this World spoke to me and I immediately held it and said, "I'm going to work on the exercises in this book."
I pulled out a journal I had completed just prior to moving – a nice leather bound journal with 200 hand stitched pages – and began reading and following Julia's instructions: Daily Morning Pages; Weekly Artist's Date and at a minimum, a weekly walk. I had fallen off the wagon on my daily journaling with the move, so it was a welcome task to complete – almost a feeling of "I can't wait to wake up and do my pages" … The weekly Artist Date was an easy task too. Love doing those and have for years. And the walk? Well, I welcome exploring my new territory with the added bonus of the beach only 10 minutes away.
So as I process my own emotions around the move, Walking in this World will help facilitate my processing, along with my personal growth of moving to a new area. I'm excited to see where it all takes me.
Meanwhile, my art beckons me. I have several visions in my head that I want to complete, and have to finalize the set up of my art materials on my 3 tier red cart. Oh the joy of unpacking and setting up new space. And, I must put up my drapes/curtains… even though I face a golf course with trees blocking anyone's view of my interior, still I'd like to finish off the windows with the curtains I bought especially for each of my rooms.
So you must be wondering, what motivates me to get going after taking almost a month off to finalize the packing, move and now unpacking? I must admit the mornings are tempting to sleep in. Especially today, when Ziggy jumped up and said "come on, let's get up," I wanted to roll over and close my eyes for another hour or two. But, I didn't. Why? Because of the thrill and excitement of getting back to the keyboard and writing.
I've had this blog post in my head for several days now but wasn't going to write it until today. And despite any unpacked boxes that may be hovering around me, I was going to write regardless starting today. I have so many writing projects on a long list of writing to do's that I only hope you don't get sick of reading my posts.
So as I begin to process my emotions of grief, loss, change, fear and uncertainty just to name a few, I look forward to the process and excited for the journey into the unknown. Stay tuned folks… it's just the beginning of a new adventure… and probably a few more books.
Keeping you in Love and Light…
Rosemary Augustine
P. S., If you would like information on the Cat Behaviorist, please check out Ziggy's FaceBook page, since he posted a comment on her as his new BFF on March 4th. See: www.FaceBook.com/MyCoolCatZiggy and like and follow him while you're at it. Thanks so much!
~ ~ ~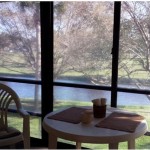 Writing about change is one of my favorite topics.  Ha! My first book addressed change and how we deal with it.  And, I'm sure I have had many Blog posts about change over the years.  I just can't seem to get enough of it lately.
My favorite quote that I wrote in 1994 and was included in my first book Facing Changes in Employment was: change is constant and all else revolves around it.  It has stuck with me as one of life's truths.  The other quote that I'm famous for (and also in my book Facing Changes in Employment) is: change and shape your future otherwise this is as good as it gets.  When you step back and let those words soak in, it chills you to realize you are the one who can make things happen.  And how you look at it, or perceive it, can take you miles along your journey or cause you to just be frozen in fear and only circle the block.
Once again, I'm facing lots of change.  Previous Blog posts have indicated the tremendous changes I have endured over the last couple of years including cancer and then the death of both my mother and my kitty Zack only a few months apart.  I've survived and in some cases even thrived.  But still, it's change and it's important to me to handle the stress in a healthy way.  Ziggy on the other hand has endured all these changes with me. However, kitties don't have the capacity of humans to understand and reason why things are happening.  Although he is physically very healthy, he suffers from grief and anxiety from all our loss.  Hopefully the product called Feliway, that my vet recommended, will assist him in calming his stress filled life as we continue to face change and start our process to move 1,000 miles from Berwyn.
For those of you who haven't heard yet, yes… I am moving once again.  This time Ziggy, Me, all our household belongings, my business and who knows what else, are moving to Melbourne, Florida sometime in April.  Zig and I are very excited.  Well, I am, he's still trying to figure out what all the empty boxes are doing in the back room.  Many of you know that after 26 years living out west (6 in California and 20 in Colorado), I relocated back to my roots in the NJ/PA area in 2001.  That relocation was to be closer to family, especially my mom who died last year at the age of 100.  Now, with mom gone, it's time for my next adventure.  And who knows what wonderful adventures are ahead.  It will be fun to discover… and as my quote says: shape my future.
So, you'll continue to hear from me.  My email lists are growing.  If you are receiving this as an  email, then you are on my master list.  If you are reading it on my Blog, then consider subscribing to my email list. If you have an interest in writing a book and getting published, then you may also want to consider joining my Self Publishing for Writers Email List and receive regular information about book publishing.  If you are seeking creativity in your life, involved in a daily journaling practice, produce art journaling pages, etc., you may want to consider my Journaling Circles.  This group will now become an online forum with monthly creative exercises, sharing your work with other participants, and other opportunities to expand your creativity.  You can join my email list here
So, stay tuned… as I look out the window and see it snowing, I know that warmer weather awaits, an active life with outdoor activities year round are in my future, and of course, an opportunity to  take my creativity to new heights.  Writing will always be a staple for me, since it comes naturally to me just like walking.  As always, make it a GREAT Day!
Warmest Regards,
Rosemary Augustine – Artist and Author
~~~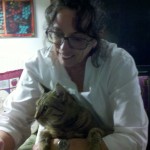 As I review my personal and professional accomplishments for 2014, it is bittersweet to see 2014 end.  Glad on one hand, and sad on the other.  The year was filled with light, love and laughter, and oh yes, tears too.
Personally, it was a year of love, laughter and loss.  I enjoyed art shows at Collingswood Arts Festival, Downton Abbey Clothes at Winterthur, member art displays at Wayne Art Center and the fabulous art works at the National Gallery in Washington DC.  I reconnected with childhood and college friends, shopped, took walks on the beach, and had many lunches and dinners with even more people I call friends.  What about my long distance tribe?  Well, we spent many hours on the phone laughing and gabbing about life and the pursuit of happiness.
I experienced 2 major losses in my life this year.  One was my mom, who had reached age 100 and 3 months by the time she died.  She was very insistent about that 3 month addition.  We celebrated her 100th birthday in February with a big party, including TV coverage and fabulous food catered by Maggiano's Italian Restaurant.  However once mom turned 100 it was a steady decline from there.  I feel she felt she reached her goal of 100 and there was nothing left. Her health was a major factor as well.  Family came together during her closing days.  My brother, sister and I shared daily life for 2+ weeks, including childhood memories and daily meals.  We also acquired an understanding of the dying process and an appreciation for living in the moment.
Four months later, my kitty Zack died unexpectedly at the tender age of 9 years.  He was my recluse kitty, one that you never saw too much, so his sudden changes in his behavior – being even more recluse and no eating – signaled something wrong.  But it was too late, his kidneys and heart were so advanced with failure, I quietly laid him to rest less than 48 hours of taking him to the vet.  Ziggy and I remain the only occupants of the large 2 bedroom/2 bath apartment that was once shared with mom and Zack.  Mom and Zack are together now in their new dimension.
Travels for the year included Washington, DC, Melbourne, FL and of course the South Jersey Shore.  These were long overdue vacations – put on hold while I balanced work, business and care giving the last few years.
However, I did have some accomplishments for my small business.  My Self Publishing for Writers Meet Up started having sold out attendance in 2014.  Each month there is a wait list for attendees.  And, great exchange of information among writers and authors.
My original website careeradvice.com was totally overhauled using Kami Designs on Fiverr.com. I am very pleased with the results and showcase my career books including 29 Things and I Love My Job.
I worked with many clients coaching them on business and career with ideas for marketing and creativity.  And, I sold my first piece of art work.  My annual participation in the holiday craft shows brought new customers, and I finally succumbed to paid online target marketing with Cat Fancy Magazine, Amazon and Facebook.
What does 2015 hold for me?  Change!  Lots of change!   For one, I turn 65!  Possibly I'll publish more books, take my art to a new level and maybe even move.  Who knows, maybe all of the above.  Stay tuned as you follow my adventures of life in 2015.  Happy New Year and make 2015 the Best Year Yet!
Love and Hugs
Rosemary Augustine

Every year we find the mad rush to Christmas which begins the day after Thanksgiving and seems to subside by Christmas night.  Gifts, cards, trees, ornaments, cooking, baking, and visiting.  Days are shorter and our time is even less with so many more things added to get done in time for Christmas. I did, however, find time to paint the above picture of evergreens for some of my cards.
When Christmas Cards start arriving, the annual Christmas Letter is often enclosed detailing the year's happenings within the family.  Often we receive letters from those we don't see throughout the year.  Then you wonder if some of the information is really true.
My friend Gerri Lambert recently sent me a Christmas Letter as a spoof on the famed enclosure many of us receive.  I loved it so much I asked her if I could include it on my Blog.  If you want a really good laugh this holiday season please read on.  You've often heard me say you can't make this stuff up?  Well, she wrote a letter about a fictitious family and addressed it to friends, and then she wrote the real truth to a fictitious sister.  If you need a break from all the Holiday Hoopla, take a few minutes and wander off into the land of fiction and enjoy the following Christmas Letters.  I hope you get as much laughter out of it as I did.  Many thanks to Gerri for her writing these Christmas Letters.  Enjoy!
And, OH! … Merry Christmas, Happy Hanukkah, Happy Winter Solstice, and Happy Kwanzza!
Rosemary Augustine
Dear Friends,
What a wonderful year for our family!
After graduating with a triple degree in art history, economics and tax accounting, this year our Michael decided to go on to law school and was accepted to Harvard. Michael wants to study tax law and follow in his grandfather's footsteps. We are so blessed.
Our Ann has moved to New York City to start her career in the theatre! After studying in France, Ann has decided America is the place for her to express her art. We can't wait to visit her and see the New York the way the locals see it! We are so lucky.
Instead of attending a local "public" high school, our youngest has decided to attend a very lovely old school in Pennsylvania. The school is full of history and has very well known alumni. Johnny just couldn't find a way to express himself in public school, it stifled him – he needs a one-on-one atmosphere to bring out his talents.
I won't bore you with all the twins adventures – at the moment, they are studying in Italy. As you know they are both fluent in three different languages. You wouldn't recognize them now; they have grown so much. More about the twins in our 4th of July up-date.
Jack spends a lot of time in Washington at his job as an elected official — and he is running again! You just can't stop him. I'm sure you are keeping up with Jack's accomplishments in the newspapers. He is a one-man army against the drug trade. You can't keep a good man down!
I stay at home and tend the home fires. How lucky I am to have such a devoted husband. We keep in touch hourly via cell phone, which allows us to share every hour of our day with each other – and of course, when Jack is home we spend every minute together.
Jack's only sister has come to live with us now that I'm an empty nester. What a joy she is to me. I can't think what I would do without her and her friends.
If you don't see me around town in our old "Woody," it's because I spend lots of time at the church doing volunteer work helping those in need. I always include my friends in my daily prayers.
Merry Christmas and God bless You All!
Ethel, Jack and the Kids
Now, Ethel sent this letter to all her friends, however, she sent a different one (the truth) to her sister. Read on…
Dear Sis,
This has been a hell of a year! I didn't think things could be worse than last year, but this year was a doosy! I consider myself lucky just to get this off my chest.
That fool of a son of ours has finally finished school after eight years. Now he wants to go to law school. Not only does he owe thousands in school bills, he owes his girlfriend's family for supporting him and their two kids all these years. He is just like Jack's no good father, the ex-con who didn't believe in paying taxes.
Ann was thrown out of France and three other countries in Europe for vagrancy on the streets. (And people wonder how Americans got a bad name over there.) She is now on the road with a group of hippies; God only knows where she will show up. Don't attend any Playhouse Theaters lest you run into her! Last I heard, she is living with some guy in New York City. (Like father, like daughter.) Hopefully, I will be long gone by the time she is off drugs.
John was hauled off to reform school — again. I told them, that's it – don't let him out until he is twenty-one. Hopefully, I will be long gone.
The twins are living in South Philly in some "i-talian" neighborhood. Both are pregnant and expecting to deliver around July. Hopefully, I will be long gone by then. The two of them are still speaking with an English accent since that two-week school trip to England they took in Junior High. They were making decent money doing Rap, but that ended when they started to show. The two of them are as fat as fools (after Jack's side of the family, of course).
Since Jack got laid off he landed a job as an undercover agent in D.C. He has made some great contacts with corporate heads and a number of people in the government. But it doesn't seem to be doing him much good, they make promises, but he doesn't see them after he does them a few favors. Because he is undercover, I don't really don't know where he is living, but we talk often on the phone. Our little plan to get new identities is still in the works. Jack says it will work because people will think his sister is really me and no one will guess I have gone on to a new life. He says it will happen any day now, just as soon his sister gives him is rightful inheritance. Then, I'll be out of here.
Jack's only sister, Edna, is a bitch. She doesn't spend a dime. She blames me for the family mess. Doesn't she see her own three kids are losers too! Her boyfriend is a pain, always rubbing my back – he isn't worth a dime, but he is a good listener.
I'm checking groceries trying to make ends meet until I make my get-a-way. I have to drive three towns over so no one will recognize me. My tires are bald and I don't know how much longer the car will hold out.  Sis, pray for me.
Ethel
P.S.  If you don't hear from me, I am away, living under a new name in my new life – without Jack and the kids.
Gerri Lambert is a freelance writer and the author of "Ireland, Ye're Ingrained in Me."  Her book is written under the pen name of Geraldine O'Gorman and is a series of short stories about an Irish family in 1950s Ireland.  It can be found on Amazon.com.  She makes her home in Wayne, PA and can be reached at mischrl@comcast.net.
~ ~ ~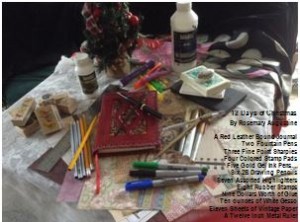 12 Days of Christmas – Art Journaling Style
By Rosemary Augustine
A Red Leather Bound Journal
Two Fountain Pens
Three Fine Point Sharpies
Four Colored Stamp Pads
Five Gold Gel Ink Pens…
Six 2B Drawing Pencils
Seven Assorted Highlighters
Eight Rubber Stamps
Nine Dollars Worth of Glue
Ten ounces of White Gesso
Eleven Sheets of Vintage Paper
A Twelve Inch Metal Ruler
All pictured above and ready for some creativity!  Ha!  I love this time of year.  Enjoy and keep singing those 12 Days of Christmas… No partridge in a pear tree here!
Merry Christmas and a Blessed Happy New Year!
Love and Hugs
Rosemary Augustine
~~~
I recently took a vacation… first one in 2 years.  I use to travel extensively, now I'm lucky if I fly once a year.  I wrote this blog on my iPad, sitting and waiting for a flight – well multiple flights.  Well, you read on, since it will tell the tale of my vacation travels last week (Nov 19-27).  Hope you get as good a laugh out of it as I have.  I'm still laughing – hysterically!  Enjoy!
Today I am hysterical with laughter.  Since I am in the process of taking a vacation and keep having delays.  Last month I was headed to Denver for a trip to see friends. I hadn't been to Denver since my 60th birthday when I gave a big birthday party and cooked lasagna for my friends (see my very first blog post "Don't Fight the Noodle").  I talk to friends in Denver on a regular basis and was looking forward to seeing everyone in the flesh so to speak… But my kitty Zack became ill and the day I was to fly, I quietly laid him to rest after a 48 hour ordeal with animal emergency rooms. So I postponed my trip until the spring since my next trip had already been scheduled to travel to Florida to see my long time friend Allie Newton who is elderly, and maybe declining, I'll know when I get there.  I haven't seen her in two years. I was planning on driving to Florida and changed my mind and switched my Denver ticket to Orlando for a 5 day trip to Florida since I didn't want to leave Ziggy for two weeks if I drove.
As the time drew near, I was excited to head to Florida. A polar vortex had settled in over the northeast with temperatures plummeting to nearly zero. The day I was scheduled to fly, the temp was in the teens … My flight was with Frontier Airlines out of Wilmington, Delaware – an airport I had never been to but it was the "new" Philadelphia Regional Airport for my airline.  Where is this airport? New Castle, Delaware. A "drive by" airport, since you will miss it if you blink along Rt 13. Airlines want you to arrive 2 hours ahead of time so I did. Well 2-1/2 hours ahead. I misjudged my travel time to New Castle. So I am first in line (already checked in but needed to drop the bag) – since on Frontier you pay a fee whether you check or carry on a bag.  Six staffers to check us in, and 10 more TSA employees to screen us.  It's the tiniest airport I have ever been to and I have traveled around the world.  So you are no sooner past security, and they announce a 2 hour flight delay. Not to worry, since instead of arriving around 6:30 pm it would be 8:30 pm, no big deal. The rental car place is open until 1am and Allie will leave the front door open for me since I have a 90 minute drive from Orlando to Melbourne.  A half hour later they announce another hour delay. The 100 or so passengers sitting and waiting are starting to get restless, since there are only vending machines to provide food and water.  At 4 pm they announce the flight is cancelled, pick up your luggage and call the 800 number to rebook your flight, since the staffers will not rebook us. Arrrrgggghhhh! Imagine 100 passengers suddenly disgusted, pissed off and you are one of them.
As I grab my bag and head out into the frigid air to my car, I already have a Frontier ticket agent on the phone trying to rebook me. What? You can't get me to Orlando until Sunday? Excuse me? Well if I'm flexible regarding my Florida destination, I can fly tomorrow? But not out of Wilmington? Out of Trenton, NJ? Who the hell flies out of Trenton, NJ? And what kind of jet airport is in Trenton? Ha! Guess I will find out.
So as I sit in my car and rebook the flight, the rental car, scheduled appointments once I arrived in Melbourne, and let Allie and the pet sitter know of my change in plans, I was exhausted.  Once I was home, I wanted to check in for my flight the next morning… HaHaHa! Now the seat assignment of 6A confirmed in an email, was suddenly reading 14B… No $&@&ing way.  Plus I had already paid for my bag, checking in online wanted me to pay again.  I call the 800 number at 8pm… Only to be told "with all the confusion of the cancelled flight, the system is screwy, so just check in at the counter in the morning." HaHaHa!
Ziggy was happy to think I was back… But soon learned when he saw the suitcase sit by the front door all night that I was leaving again in the morning. Ha! He's no dummy. So I drop into bed, drained and wanting to recharge for another round of travel daze. At 6am, Ziggy is in my face. He is my best alarm clock ever. "Wake up Mom, I don't want you to miss your flight while I quietly sulk about you leaving me again."
While driving to Trenton Mercer Airport… I start laughing uncontrollably … thinking about this whole travel ordeal.  I can barely read the road signs my eyes are filled with tears of laughter. .. The directions to this airport are familiar. Pretty much the same way when I go to either Jerry's Artarama (art supply store in Lawernceville, NJ) or Hamilton Train Station when I go to New York City.  The road signage is excellent, better than yesterday when I had to stop and ask for directions.  At Wilmington, the parking lot barely held 100 cars. Today, as I take the exit to Trenton Mercer Airport, the entrance was like driving up a sweeping driveway to a mansion. Holy Jesus, as I see the parking lot.  At least a thousand cars and not a spot in sight. Ok, who the hell flies out of this airport?  It's still just a one airline airport, but I learn later 12 flights a day depart and another 12 arrive.
So when I check in at the counter, the agents were oblivious to yesterday's debacle and could really care. But I exercised my voice of being assigned seat 6A and now you have me in 14B. Who got 6A? And why did your help desk send me an email confirming 6A?  Well, quietly the check-in clerk asks her co-worker, "can I put her in 4A?"  And, 4A is the re-assigned seat!  Yippee!!!!!
Now, instead of going through security (since they were closing for a break!), I head upstairs to a restaurant where practically my entire flight of travelers is hanging out … yes because of a delay.  So, we all eat and drink and talk and have a few more good laughs.  Oh shit, as I sit here in this restaurant, with a full view of the landing strip at Trenton Mercer Airport, the plane that just left for Ft Myers just returned – another delay for more passengers on a different flight.  Thankfully, I'm headed to Ft. Lauderdale. The bartender is making lots of tips and keeping us all happy with food and drinks.    However, more delays, and more people frustrated with the whole flying process. It's the week before Thanksgiving so it really should be lighter travel. But with airlines packing them in these days, not to mention flying a low cost airline. Well, need I say more? I sat in the restaurant/bar area for several hours talking with other passengers, and commiserating flight delays. It passed the time comfortably.
My 12:05pm flight finally took off at 1:35pm. My seat mates wore masks.  Ha! I am only hoping so they don't spread their germs to me rather than worrying about picking up my germs.  They certainly were not chatty and annoyed when I needed to climb over both of them to use the restroom twice. We landed uneventfully and I found the car rental place easily. However, now I had a long ride ahead of me from Ft. Lauderdale to Melbourne.
As I emerged from the airport rental garage, it was 5:30 pm and I was thrust into rush hour traffic. As I rounded the curve onto the highway, I had 8 lanes if solid red tail lights facing me for as far as I could see.  I had about 170 miles to go. Ha! Ha! It's going to be a while I thought to myself.   After an hour of bumper to bumper traffic, I stopped and ate dinner as I didn't feel I would get to my destination much before 9 pm… After a nice dinner, I was off to travel north on I-95 for the next few hours… And sure enough, I pulled in to Allie's driveway just after 9 pm.
My time in Melbourne was enjoyable, with warm air, sunshine and good food with my Florida friends. I did however receive two separate emails from Frontier Airlines about travel credits for inconveniencing me.  For the cancellation of the Wilmington to Orlando flight, I was credited the full amount of my fare, and for the hour flight delay in Trenton, I was credited another $15. I have never experienced this before, and it does sweeten the travel delays.  Yes I would fly them again despite the delays and cancellations.
Now it's time to return home after my week here in Florida.  Originally I was to return home on Tuesday.  But when they rebooked me through Ft Lauderdale, they pushed it to Wednesday – the day before Thanksgiving and the busiest air travel day of the year. In addition, the entire Philadelphia area (including Trenton), were scheduled for up to 8 inches of snow. Here in Florida, we were having what I would consider hurricane-like weather.  We had violent thunderstorms, high winds and pouring rain for 2 solid days.  Now it's the morning to fly home and there is flooding everywhere and non-stop storms. Do I take my chances and drive the 3+ hours to Ft. Lauderdale? Only to be cancelled or delayed when I arrive? Or do I change my flight?  I'm on hold with the airline at 6 am for almost an hour. Finally when I get through, I learn of the weather advisory and my option to change my flight at no additional charge since Trenton is having a weather advisory and I am scheduled to fly into Trenton.  So I laugh some more hysterically.  Change the flight to fly home on Thanksgiving Day when the weather will be clear? Both in Ft Lauderdale and Trenton?  Miss a great Thanksgiving meal? Or risk limb and life driving through torrential down pours and have additional travel delays?  The decision was easy.   On Thanksgiving Day, it was a beautiful day, easy day to travel, and minimal delays.  Although we took off late, we arrived 45 minutes before our scheduled arrival – we must have had tail winds.
Despite all the crazy delays, cancellations and refund credits, it's been worth it -100%.  My future travel credits exceed the original price of my ticket.  And, after all, I wouldn't have this blog post if it wasn't for my travel delays during this trip.  Frontier's tag line is "a whole different animal" and they sure live up to their marketing.  I'll just keep laughing hysterically, will fly them again, and will use my travel credits for a new ticket… Next time maybe to Denver or Los Angeles.
Oh, and Ziggy?  Well, let's just say, he was more than happy to see me Thanksgiving night, since he hissed and growled at the pet sitter for 8 days.  He hasn't left my side since I arrived home.
Hope you had a good time laughing with me.
Happy Trails and Happy (belated) Thanksgiving.
Love and Hugs
Rosemary Augustine – Artist and Author