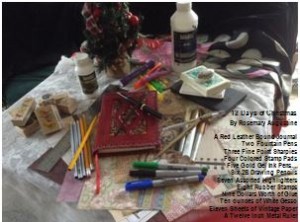 12 Days of Christmas – Art Journaling Style
By Rosemary Augustine
A Red Leather Bound Journal
Two Fountain Pens
Three Fine Point Sharpies
Four Colored Stamp Pads
Five Gold Gel Ink Pens…
Six 2B Drawing Pencils
Seven Assorted Highlighters
Eight Rubber Stamps
Nine Dollars Worth of Glue
Ten ounces of White Gesso
Eleven Sheets of Vintage Paper
A Twelve Inch Metal Ruler
All pictured above and ready for some creativity!  Ha!  I love this time of year.  Enjoy and keep singing those 12 Days of Christmas… No partridge in a pear tree here!
Merry Christmas and a Blessed Happy New Year!
Love and Hugs
Rosemary Augustine
~~~
I recently took a vacation… first one in 2 years.  I use to travel extensively, now I'm lucky if I fly once a year.  I wrote this blog on my iPad, sitting and waiting for a flight – well multiple flights.  Well, you read on, since it will tell the tale of my vacation travels last week (Nov 19-27).  Hope you get as good a laugh out of it as I have.  I'm still laughing – hysterically!  Enjoy!
Today I am hysterical with laughter.  Since I am in the process of taking a vacation and keep having delays.  Last month I was headed to Denver for a trip to see friends. I hadn't been to Denver since my 60th birthday when I gave a big birthday party and cooked lasagna for my friends (see my very first blog post "Don't Fight the Noodle").  I talk to friends in Denver on a regular basis and was looking forward to seeing everyone in the flesh so to speak… But my kitty Zack became ill and the day I was to fly, I quietly laid him to rest after a 48 hour ordeal with animal emergency rooms. So I postponed my trip until the spring since my next trip had already been scheduled to travel to Florida to see my long time friend Allie Newton who is elderly, and maybe declining, I'll know when I get there.  I haven't seen her in two years. I was planning on driving to Florida and changed my mind and switched my Denver ticket to Orlando for a 5 day trip to Florida since I didn't want to leave Ziggy for two weeks if I drove.
As the time drew near, I was excited to head to Florida. A polar vortex had settled in over the northeast with temperatures plummeting to nearly zero. The day I was scheduled to fly, the temp was in the teens … My flight was with Frontier Airlines out of Wilmington, Delaware - an airport I had never been to but it was the "new" Philadelphia Regional Airport for my airline.  Where is this airport? New Castle, Delaware. A "drive by" airport, since you will miss it if you blink along Rt 13. Airlines want you to arrive 2 hours ahead of time so I did. Well 2-1/2 hours ahead. I misjudged my travel time to New Castle. So I am first in line (already checked in but needed to drop the bag) – since on Frontier you pay a fee whether you check or carry on a bag.  Six staffers to check us in, and 10 more TSA employees to screen us.  It's the tiniest airport I have ever been to and I have traveled around the world.  So you are no sooner past security, and they announce a 2 hour flight delay. Not to worry, since instead of arriving around 6:30 pm it would be 8:30 pm, no big deal. The rental car place is open until 1am and Allie will leave the front door open for me since I have a 90 minute drive from Orlando to Melbourne.  A half hour later they announce another hour delay. The 100 or so passengers sitting and waiting are starting to get restless, since there are only vending machines to provide food and water.  At 4 pm they announce the flight is cancelled, pick up your luggage and call the 800 number to rebook your flight, since the staffers will not rebook us. Arrrrgggghhhh! Imagine 100 passengers suddenly disgusted, pissed off and you are one of them.
As I grab my bag and head out into the frigid air to my car, I already have a Frontier ticket agent on the phone trying to rebook me. What? You can't get me to Orlando until Sunday? Excuse me? Well if I'm flexible regarding my Florida destination, I can fly tomorrow? But not out of Wilmington? Out of Trenton, NJ? Who the hell flies out of Trenton, NJ? And what kind of jet airport is in Trenton? Ha! Guess I will find out.
So as I sit in my car and rebook the flight, the rental car, scheduled appointments once I arrived in Melbourne, and let Allie and the pet sitter know of my change in plans, I was exhausted.  Once I was home, I wanted to check in for my flight the next morning… HaHaHa! Now the seat assignment of 6A confirmed in an email, was suddenly reading 14B… No $&@&ing way.  Plus I had already paid for my bag, checking in online wanted me to pay again.  I call the 800 number at 8pm… Only to be told "with all the confusion of the cancelled flight, the system is screwy, so just check in at the counter in the morning." HaHaHa!
Ziggy was happy to think I was back… But soon learned when he saw the suitcase sit by the front door all night that I was leaving again in the morning. Ha! He's no dummy. So I drop into bed, drained and wanting to recharge for another round of travel daze. At 6am, Ziggy is in my face. He is my best alarm clock ever. "Wake up Mom, I don't want you to miss your flight while I quietly sulk about you leaving me again."
While driving to Trenton Mercer Airport… I start laughing uncontrollably … thinking about this whole travel ordeal.  I can barely read the road signs my eyes are filled with tears of laughter. .. The directions to this airport are familiar. Pretty much the same way when I go to either Jerry's Artarama (art supply store in Lawernceville, NJ) or Hamilton Train Station when I go to New York City.  The road signage is excellent, better than yesterday when I had to stop and ask for directions.  At Wilmington, the parking lot barely held 100 cars. Today, as I take the exit to Trenton Mercer Airport, the entrance was like driving up a sweeping driveway to a mansion. Holy Jesus, as I see the parking lot.  At least a thousand cars and not a spot in sight. Ok, who the hell flies out of this airport?  It's still just a one airline airport, but I learn later 12 flights a day depart and another 12 arrive.
So when I check in at the counter, the agents were oblivious to yesterday's debacle and could really care. But I exercised my voice of being assigned seat 6A and now you have me in 14B. Who got 6A? And why did your help desk send me an email confirming 6A?  Well, quietly the check-in clerk asks her co-worker, "can I put her in 4A?"  And, 4A is the re-assigned seat!  Yippee!!!!!
Now, instead of going through security (since they were closing for a break!), I head upstairs to a restaurant where practically my entire flight of travelers is hanging out … yes because of a delay.  So, we all eat and drink and talk and have a few more good laughs.  Oh shit, as I sit here in this restaurant, with a full view of the landing strip at Trenton Mercer Airport, the plane that just left for Ft Myers just returned – another delay for more passengers on a different flight.  Thankfully, I'm headed to Ft. Lauderdale. The bartender is making lots of tips and keeping us all happy with food and drinks.    However, more delays, and more people frustrated with the whole flying process. It's the week before Thanksgiving so it really should be lighter travel. But with airlines packing them in these days, not to mention flying a low cost airline. Well, need I say more? I sat in the restaurant/bar area for several hours talking with other passengers, and commiserating flight delays. It passed the time comfortably.
My 12:05pm flight finally took off at 1:35pm. My seat mates wore masks.  Ha! I am only hoping so they don't spread their germs to me rather than worrying about picking up my germs.  They certainly were not chatty and annoyed when I needed to climb over both of them to use the restroom twice. We landed uneventfully and I found the car rental place easily. However, now I had a long ride ahead of me from Ft. Lauderdale to Melbourne.
As I emerged from the airport rental garage, it was 5:30 pm and I was thrust into rush hour traffic. As I rounded the curve onto the highway, I had 8 lanes if solid red tail lights facing me for as far as I could see.  I had about 170 miles to go. Ha! Ha! It's going to be a while I thought to myself.   After an hour of bumper to bumper traffic, I stopped and ate dinner as I didn't feel I would get to my destination much before 9 pm… After a nice dinner, I was off to travel north on I-95 for the next few hours… And sure enough, I pulled in to Allie's driveway just after 9 pm.
My time in Melbourne was enjoyable, with warm air, sunshine and good food with my Florida friends. I did however receive two separate emails from Frontier Airlines about travel credits for inconveniencing me.  For the cancellation of the Wilmington to Orlando flight, I was credited the full amount of my fare, and for the hour flight delay in Trenton, I was credited another $15. I have never experienced this before, and it does sweeten the travel delays.  Yes I would fly them again despite the delays and cancellations.
Now it's time to return home after my week here in Florida.  Originally I was to return home on Tuesday.  But when they rebooked me through Ft Lauderdale, they pushed it to Wednesday – the day before Thanksgiving and the busiest air travel day of the year. In addition, the entire Philadelphia area (including Trenton), were scheduled for up to 8 inches of snow. Here in Florida, we were having what I would consider hurricane-like weather.  We had violent thunderstorms, high winds and pouring rain for 2 solid days.  Now it's the morning to fly home and there is flooding everywhere and non-stop storms. Do I take my chances and drive the 3+ hours to Ft. Lauderdale? Only to be cancelled or delayed when I arrive? Or do I change my flight?  I'm on hold with the airline at 6 am for almost an hour. Finally when I get through, I learn of the weather advisory and my option to change my flight at no additional charge since Trenton is having a weather advisory and I am scheduled to fly into Trenton.  So I laugh some more hysterically.  Change the flight to fly home on Thanksgiving Day when the weather will be clear? Both in Ft Lauderdale and Trenton?  Miss a great Thanksgiving meal? Or risk limb and life driving through torrential down pours and have additional travel delays?  The decision was easy.   On Thanksgiving Day, it was a beautiful day, easy day to travel, and minimal delays.  Although we took off late, we arrived 45 minutes before our scheduled arrival – we must have had tail winds.
Despite all the crazy delays, cancellations and refund credits, it's been worth it -100%.  My future travel credits exceed the original price of my ticket.  And, after all, I wouldn't have this blog post if it wasn't for my travel delays during this trip.  Frontier's tag line is "a whole different animal" and they sure live up to their marketing.  I'll just keep laughing hysterically, will fly them again, and will use my travel credits for a new ticket… Next time maybe to Denver or Los Angeles.
Oh, and Ziggy?  Well, let's just say, he was more than happy to see me Thanksgiving night, since he hissed and growled at the pet sitter for 8 days.  He hasn't left my side since I arrived home.
Hope you had a good time laughing with me.
Happy Trails and Happy (belated) Thanksgiving.
Love and Hugs
Rosemary Augustine – Artist and Author
I am beginning to see loss has a meaning. As much as we hate it when we are in the deep muck of it, later looking back, it was time… time to move on, time for change, time because things were finished. It may be hard to understand when a person or animal completed their work here on earth and moved on to their next journey, we often don't understand. It's not for us to understand. We are to feel our loss, accept it, and move through it so we too can move on – now without them. Same goes for loss of a job, friend, parent, or your dog. The times spent will yield memories – many of them. The loss will be felt for sure. But we heal, grow and move often in new directions. I'm not discounting loss by any means. I have had much loss in the last couple of years as outlined in previous posts. However, I have realized my strength, challenges and opportunities long after the fact as a result of my loss. My I suggest you journal on the positive and negative aspects of your loss (#143 of 365 Days of Creative Writing). It will open your eyes to the changes that have taken place as a result of your loss.
. . .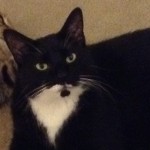 "Zack" Augustine
April 15, 2005 – October 8, 2014
Zack was laid to rest on Wednesday, October 8, 2014 after being hospitalized earlier in the week and diagnosed with advanced stages of Congestive Heart Failure and elevated Kidney functions. The last 20 hours of his life he spent in an oxygen tank to assist with his breathing.  Zack was just 9 years old.  Zack will be fondly remembered as the feline duo of Ziggy and Zack in the book "Secrets I Learned From Ordinary House Cats."  He will be sadly missed by his life-long human companion Rosemary Augustine, his litter mate and brother Ziggy, all the birds and squirrels of Main Line Berwyn Apartments, and many friends and neighbors.  He is resting comfortably now with former feline companions of Rosemary's, Byron and Maxx, and Rosemary's mother who died four months prior.
Zack enjoyed the 2nd floor patio at Main Line Berwyn Apartments, often walking the railing the first 8 years of his life.  When moved to the opposite side of the building a year ago, he thoroughly enjoyed the patio overlooking the parking lot, as he could watch neighbors come and go.  He was excited when the birds were at the feeder just outside the window.  And Zack was a champion in catching bugs – his favorite was the summer cicadas that would nest in the surrounding trees.  He would catch them in mid air, but share them with his big brother Ziggy.  It was nature at work watching him during this bug decimation.  When Rosemary's mom moved in, Zack was instrumental in "showing her the way" as she used her walker up and down the hallway.  She called him Blackie.  In his lifetime, he caught a rat… a big one that hung from his mouth to the floor.  He was thrilled to show me and then he released it to safety under the refrigerator (somehow knowing it would escape totally).
Zack was a feisty kitten.  He grew into a quiet, reserved adult cat, always wanting attention and for sure getting it.  He especially liked to roll on his back so you could rub his belly – even by strangers once he approved of them.  When Rosemary was first introduced to the tuxedo kitten (later to be named Zack), he hissed and spat with claws extended as she held him by the scruff of the neck and looked at him eye to eye.  Rosemary then took the hissing/spatting kitten and tucked him under her chin, where he quickly began to purr and fell asleep.  "I'll take this one for sure" was her response.
It was often thought that Zack was the lead cat, because of his aggressive nature with his more laid back brother.  Zack would instigate play and roughhouse with Ziggy.  Often Zack would straddle Ziggy and bite him until you heard cat screams.  However, many mornings clumps of black fur were often found where it was obvious that Ziggy got him back.  They were brothers, but they were complete opposites.
Zack's ashes will be included on the kitty memorial shelf along with the other deceased Augustine felines – Byron (1985-2003) and Maxx 1992-2005).   And, daily thoughts and memories will be part of a journaling practice to help ease the pain of this great loss.
 . . .
Running on Empty …  
How Journaling Kept Me Going!
It's been almost 4 months since my mother died, and I realized yesterday that in an 18 month span, I had a lot thrown onto my shoulders creating unimaginable stress.  It's a wonder I don't want to run away – but right now, I'd be running on empty.
It all began in December 2012, when I was diagnosed with breast cancer; had cancer surgery in January 2013; in February dealt with 2 months of intense physical therapy to relieve the ancillary cording in my left arm as a result of the surgery; in April, I  changed my part time job; in June Mom asked if she could move in with me (she was 99 and could no longer live alone), and I published Secrets I Learned from Ordinary House Cats; in July I began packing and coordinating 2 house moves – mine and my mother's, I also published another book 29 Things To Do; in August I moved out of my 1 bedroom apartment and down the hall into a 2 bedroom 2 bath corner apartment to accommodate my mom moving in (I had lived in my 1 bedroom apartment for 10 years and I remember writing a blog about leaving that apartment)… a  week after I moved, I moved my mother in (she relocated 65 miles leaving New Jersey and becoming a Pennsylvania resident); the next few months were an adjustment to living with someone – after all I have lived alone since 1976!; I had been coordinating my grade school reunion for a Sunday lunch in November of that year; participated in 2 craft shows (was making journals and preparations in Sept/Oct), and published Journal to a More Creative Self;  and enjoyed Thanksgiving and Christmas with mom in the house. 
When January 2014 rolled around, we had snowstorm after snowstorm, and mom was showing signs of trouble – screaming in the middle of the night, and hallucinating as she napped during the day; February 7th we had a major power outage and by the second night without heat and electricity, her hallucinations were uncontrollable and I called for an ambulance.  She spent the next week in detox and then six weeks in rehab; she came home for her 100th birthday party that I coordinated – more like a family reunion with TV coverage and cards from the President.  After her 100th birthday, mom started to really decline.  She was released from rehab to come home in April but her kidneys were showing signs of dramatic decline. Care for her increased and I pulled back my hours at my part time job.
In May we made plans to attend her great-grandson's 4th birthday party (a 1-1/2 hour drive each way); Mother's Day we took a ride to her favorite beach town – Ocean City, NJ were I wheeled her along the boardwalk in her wheel chair.  We were both happy yet sad – happy because she never thought she would see Ocean City again, and sad because we both knew it was a matter of time and she would be gone. We had the discussion so many times.  And more recently, discussions about making sure everything is in order, anything else you want to do or see, let's do it.  Ocean City was the icing on the cake for her. 
Four days later her kidneys failed and she was in and out of the emergency room twice before being admitted with kidney failure and sepsis (the toxins entering the bloodstream).  It was fatal and I had to tell her it was fatal.  We talked about whether she wanted to stay in the hospital and die or go home and die.  She chose the hospital.  We called everyone to say goodbye.  The next day she went on hospice, family started arriving and we sat the "death watch" for 10 days before she died quietly on May 28th. 
My job as her Power of Attorney in an instant turned to Executor of her estate.  And the responsibilities of distributing her assets per her will began with a blink of the eye.  Her body wasn't even cold and I had arranged for the funeral home to pick her up; my brother, sister and I wrapped up the obituary and selected a photo for the newspaper all within 2 hours of her being gone. And the next morning we caravanned the 65 miles to Vineland, NJ to begin arrangements for her funeral and burial.  Once she was buried, I returned home to start cleaning out her room, disposing of unwanted furniture and belongings, rearranging the extra space in the apartment and of course probating her will. 
As, I look back across that 18 months, I had many major life events – cancer, moving, death of my mother along with coordinating 2 reunions – the grade school and 100th birthday/family party; changed part time job and released a couple of books.  How on earth did I keep all that together?  So I can see why I want  to run away, why I just want to play and relax, and not be responsible at this point.  I would almost prefer to just disappear and recharge, go somewhere and just "be" …
So, it becomes obvious, that I need a trip to the ocean – where I often go to recharge on the east coast.  A walk on the beach to be with my thoughts, ponder life, and not necessarily make any decisions except to breathe.  What's next? Where do I go from here?  That's a good question, and to visualize it, I need a picture, and I don't even know what it looks like.  I scramble, run – here and there, and then get lost in mindless details that distract me, take me away from center.  I cry.  How did I do all that?  How did I keep everything together in my life during that 18 month crazy ride?  I know the one grounding force in my life during all this was journaling.  You ask, "Where did I find the time to journal?"  Ha!  Where did I find the time to do all the other stuff that was on my plate?  The other grounding force was my friends including God.
Now I feel the emotional pain, grief stricken at times and then fine. Now after all these months, I sit and stare or take 2 and 3 walks a day.  Now I say, enough is enough, can I fill up and run away?  I feel like I spin my wheels, but I'm really standing still, exploring options, seeing what fits, what feels good, and what I want to keep.  My writing is the only thing that circles back that comforts me. It's another wall I hit and say, it's OK, just trust God and keep writing.  Like my last 3 books – all written long ago and published in 2013. 
So, I have decided to stop running on empty and just keep writing … to fill up and start anew.
Rosemary Augustine – Author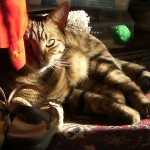 Dog Days and Cat Daze are upon us.  Though, I always thought Dog Days were in August.  It's already a daze with my cats with long days indoors because of heat and humidity, and bright sunlight shining in because we live on the west side of the building, as it's too hot to enjoy the west-facing patio.  So they sit just inside the sliding glass door and sulk, dreaming of the chew of leaves and the possibility of catching a bird high in the feeder.  Storms come, winds blow, the sun is scorching.  Meanwhile they sit waiting patiently for cooler weather.
Interestingly, through all this I noticed that cats experience jealousy much like we humans.  They become jealous of your attention that you favor one over the other, or worse yet, come home smelling like a cheater.  I've been caring for a neighbor cat for the last month and my Ziggy and Zack are catching on to the jealousy factor.  Yes, I must admit, my two have suffered for attention, but they have me 22 hours a day, where the neighbor kitty only has me 2 hours.  As humans we can address, correct and resolve our jealousy.  But cats? Well, they'll just bite your leg, scratch your eyes out or create a non-existent physical ailment that turns out to be behavioral.  Acting out? You bet!  We all do – humans and animals alike.  Well, I only write about cats when referring to animals.
In the meantime, during our July Cat Daze / Summer Haze enjoyment, I have a journaling exercise for you.  Since my cats reminded me of jealousy this morning, I thought I would ask you: who are you jealous of and what are you doing about it?  This is something to take to the journal and spend some time with it.  Spend 30+ minutes sitting in the cool shade and journal on your jealousy.
Jealousy really is not healthy and signifies deeper issues.  Hint: all the more reason to journal on your jealousy.  So do I hear you saying, "Ha! I'm not jealous!  Not Me!"  And so, there's another reason to journal on this – denial!   Journaling about jealousy may uncover deeper issues around anger and resentment.  Boy, watching cats and their behavior tells me a lot about us humans.
Your Journal Prompts:
The key word here is "Jealousy" … Get your pen and paper out and answer the following:
*Who might you be jealous of?  I know, don't end with a preposition!  Stick to the assignment… who might you be jealous of in light of career, success, love, beauty, style, money, home, car, accessories, etc.?  Think about it, now write.
*What happened in your life to cause such jealousy?
*When in your life did this happen and when does it keep coming back? Think of and write about trigger points.
*Where does it take your emotions?  Pay particular attention to your writing on this one.
*Why hasn't it been resolved?  Why does it still bother you? Why do you continue to be jealous after all this time?
*How have you recognized how jealousy no longer serves you?  How can you resolve it?  How can you release it and let it go?  And, if you are unable to resolve it, why?  Go back to the "Why" question and flush it out, then return to the "How" prompt and complete again.
Just some writing fodder to use a journal you bought months ago and should use on a regular basis. Nobody needs to see your entries but you.
Remember, do this sitting in the shade since any anger it may create may get you so heated that sitting in the sun will only make the exercise more uncomfortable.
Happy Daze!
Warmest Regards,
Rosemary Augustine
 ~ ~ ~
It's Easter Sunday, and I chose to take a hike instead of going to church.  You see, for decades I have felt closer to God in the woods than I have in a building they call a church, and with people who pretend to pray and walk the talk on Sunday's and not any other day of the week. I call them hypocrites… I've known quite a few and even worked with many of them over the years.
When I walk in the woods, I walk with God… well, I feel his presence more so, since his creations are so overwhelmingly obvious to me deep in a place of nature.  With spring erupting, it's apparent that there is a force greater than us that is present in every corner of our life.  Even in places you wouldn't imagine.
I find I keep changing – growing is more like it.  Vibrating at a higher level and a seeker of truth.  Call me restless or call me crazy, the bottom line is … I'm no different than you since we are all one and what hurts me, hurts you too.  So, when we say we want peace, find peace in your heart first.  When you say you want love in your life, find a way to love yourself first… and so forth and so on.
My thoughts ramble on this beautiful spring day, so I make doubly sure that my thoughts are what I want manifested in my life.  So when I say I stood with God… I stand with him everyday, and so do you.  You may not think so, but you do.  And your thoughts deep within your sub-consciousness create your reality.  So when you realize life is what you make of it… make sure you make it a great day.  Check those thoughts and keep checking them … and thank God for all that he created, you included … Because everyday is a great day, whether you think so or not – it's all in how you view it in your mind.
A recent art journal page that I created talks about abundance… Abundance: your mind creates abundance in your world.  A play on words really speaks to it:  Birds of feather flock together… even in abundance.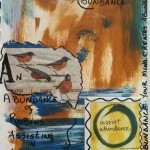 You probably wonder what this has to do with standing with God?  Think about it… because whatever your think about manifests – God answering your request for more or less of what it is you're focused on.  So take a moment and think about those thoughts – as you stand with God – and focus on the good stuff… focus on love … focus on peace … focus on whatever it is you want to expand in your life and watch it grow even more.  Then when you say "I stood with God today" you are a witness to his greatness.
. . .

Drink the Kool-Aid … 
So often I hear excuses when it is suggested, "why don't you journal on that?" In my years of writing journal entries and teaching the process to go within using the journaling technique, I get a reaction as if I'm asking you to "drink the Kool-aid." Your inward journey is a self discovering process (using journaling as the tool) that only the individual whose journey it is can experience. The excitement is when you discover that change is beneficial to your health and overall well being. That change – although may be faced with fear – we learn after the fact that it was a welcome opportunity. And, possibly discovering it was even a learning experience – learning about yourself and your potential (by busting through your self-imposed limits).
Change is inevitable. It's obvious about change, indicated by the dramatic changes we've encountered over the past few years as a global society. But let's focus on you and your change, your fear when facing the unknown and all the nightmares it may bring. Spend 15 minutes each day, going deep on the page, getting in touch with your feelings, expectations, disappointments and joys. Write about your limits, blocks, and yes your fear. Get in touch with the fear that holds you back and why. Write it out, draw it on the page, get mad, get angry, cry, laugh. Hopefully you may uncover through your journaling what's holding you back from change is really you, and no one else.
"Change is constant, and all else revolves around it"* … and "with change we shape our future."* Taking those 15 minutes each day, and writing those thoughts, fears, ideas, etc., you will begin to see patterns, directions, and drill down on your focus. Just write, and don't edit, let your feelings and ideas spill on the page. If you find yourself all over the place with scattered thoughts, that's ok too. Create lists or draw mind maps to help organize your thoughts – all in your journal. Let your journal be the place you go to rest those demons, spill the chatter, and correct the constant negative self talk. And, if you are a very detailed oriented person, create different "what if" scenarios – all in your journal. However, at some point you must begin to journal on action steps needed to make your changes become a reality. You may have been doing this all along while writing. Go back and read what you wrote and gain insight to what's blocking you and how to move forward.
Go ahead … Drink the Kool-aid! My Kool-aid won't kill you. It will, however, open doors for you to see directions, opportunities and yes how to put fear to work making it a useful friend in the sea of change. "Because remember, change and shape your future, otherwise this is as good as it gets!*
Start by setting a timer each day if you feel you will go over 15 minutes. Begin writing in your journal using the prompt word "Change" … what it means to you, how change will change your life and those around you; and what your life will look like a year from now by NOT making changes in your life. My book 365 Days of Creative Writing – Journal Prompts for Everyday of the Year offers a minimum of 25 prompts just around this subject. Those prompts include Change; Fear; God; Happy; Limits; Procrastination; Resistance. Trust your higher power that you believe in to know you will come through whatever changes you are faced with as a better person.   Start writing – today!
Wishing you Spring Blossoms and Warm Sunshine on a snowy March afternoon…
Rosemary Augustine – Author
* As mentioned in the book Facing Changes in Employment by Rosemary Augustine, published in 1995.
Please Note: The reference to "Drink the Kool-aid" is used as a figure of speech and is in no way intended to imply that you do harm to your body. The author merely uses this phrase to help you overcome your fear of writing and address your self-imposed limits using journaling as an emotional and spiritual tool.
. . .
Angel Visit Anyone?
This is a Personal and Spiritual Experience
Would you like an Angel Visit? If you think this is crazy, you do not need to read any further.
However, if you believe in the power of angels, I invite you to continue reading and consider an angel visit.
I was recently asked by my friend Sandy if I would be interested in an angel visit. She explained what I would need to do and I immediately said yes. Fast forward to my preparations and their arrival, I was excited, honored and most grateful to be selected. The preparation was easy… ensuring I had a candle that would burn continuously for 5 days (I used 2 LED powered candles across the 5 days; white flowers in a vase; 3 wishes in an envelope and 3 new hosts for them to travel to once they were completed at my home. Oh, and an apple! The night they were to arrive, I was excited, not knowing what to expect – if anything. When I opened the door and welcomed them in, I immediately sensed an energy that was thrilling knowing my intuitive side was engaged. Even Zack my one kitty immediately sensed the energy when they entered… Ziggy, however, was his usual non-chalant self. Once they arrive, you really don't have to do anything, just the prep work ahead of time, the welcoming and bidding farewell when they leave. Anything else is really up to you. If you pray or meditate, you can include them (or not), ask for a sign or anything else you desire. Or do nothing just the welcome and farewell.
If you would like to encounter this visit in the coming days, please let me know immediately. Since I may have some hosts that are looking for their 3 hosts to send the angels onto on April 3rd.
Irmi, a German medium, tells of some unnamed selected angels, highly placed in the angelic hierarchies – it is calculated that at the 20th iteration their work would be exponentially expanded to impact the whole world.
It is angels' desire to come down and, for five consecutive days, stay and work with individuals and help each of them meet three personal wishes. The angels stay with each new person five days before moving on to new hosts. Then, after five days, each individual sends the angels on to three new individuals who have said YES to receiving them. The angels will always arrive at the new location on a predetermined day at 10:30 PM and leave five days later at exactly 10:30 PM. Between each five-day visit, the angels have a quiet traveling period of five days, when they are on their way to the three new addresses. These pauses have a considerable positive impact on the world.
My experience was wonderful. I wrote creative writings that just suddenly came to me, moved heavy objects with ease and noticed my healthier food intake since I had asked about healthy eating. I was sad when it was time for them to leave, but knew I was on the road to something new. But I must say, I am open to these kinds of things and welcome the spiritual energy, wisdom and enlightenment that such an experience offers. Your 3 wishes can be anything at all – personal, or global, financial or emotional. So, if this is something you would like to experience, please contact me so that I can arrange for an angel visit to your home. Remember, if you live with someone and they don't want to participate, it's fine… just have your candle, flowers and envelopes (with the 3 wishes and 3 future hosts) in an area that is private for you.
Here is a website/blog I found today that may offer you some insight to the power of angels. I look forward to hearing from individuals who are serious (no skeptics please), and ones that are interested in being open minded to a spiritual experience. Check out this website and Happy Spring!
Warmest Regards,
Rosemary Augustine
Author of 365 Days of Creative Writing
P.S. Please feel free to forward this page if you feel someone may be interested in hosting an angel visit.
If you are interested, please email me today, as you would need to be listed as a host in the coming days and your angels would arrive April 3rd and depart April 8th.  See email address on the bottom right of 
this screen.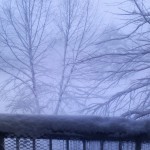 Berwyn, PA – January 2, 2014 … Waiting for a snow storm to come, it's cold, dreary and I need to write.   It's January 2nd and I'm hoping you are pondering the New Year. Is it business as usual? Probably not because you want something different for 2014 … don't you?
Read More at:  http://365days2journal.wordpress.com/
. . .