Zen Doodle Art 
by Rosemary Augustine
Rosemary offered much resistance to this style of art when she first learned of it in the fall of 2012.  While on a trip, she had a free evening and began to experiment using the Zen style doodling … Zen Doodle Fever had struck.  She demonstrates this basic style in her classes and on YouTube.   Click Here for a demonstration to some of the patterns shown on this page.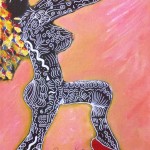 Rosemary demonstrates her "Zen Doodle" strokes as seen on YouTube.
These can be used as Note Cards and Bookmarks… Contact Rosemary if interested in learning more or to purchase her Note Cards and/or Bookmarks.