… Acrylics … Watercolors … Photographs … Mixed Media …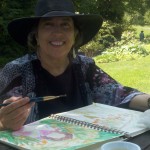 Rosemary Augustine grew up in a small town in Southern New Jersey with an entrepreneur father and a working mother.  She started as a child artist but like most child artists, her paintings stayed on the refrigerator door.  However, it wasn't until 2000 that she started to get involved in spending more time being creative – sketching and using crayons.   An avid writer (and published author), Rosemary started to blend her creativity of writing with painting art.
Rosemary's first  official art lesson was in 2001 with "Tawes" … Dennis Tawes, pioneer artist with an art studio located in the Glasstown Arts District of Millville, NJ.  "Dennis had me drawing squares and circles and working with shadows and light," says Rosemary.   "At first it was overwhelming and then I got the hang of it."  Dennis continues to be a great inspiration to Rosemary, who always enjoy seeing his new pieces on display at 3rd Fridays Arts in Millville.
Then a couple of years later, Rosemary spent nearly 18 months with the late Cori Cross of Malvern, PA.  "Cori taught me how to work with acrylic paints, and I perfected my use of color and light under her study.  She is sadly missed."
Rosemary paints primarily with the versatile medium of Acrylics, but also uses charcoal, pens and watercolors – including watercolor paints and watercolor pencils.  She loves experimenting with mixed media and creates art on paper, canvas and tiles.   She is also an accomplished photographer.
Enjoy her works on at the tab "Art Gallery" … with options to purchase as prints, note cards and on some, the original work of art.